In glitzy malls across
Hong Kong,
people are spontaneously breaking into a song. It's not just any tune -- it's a rousing ballad that some are calling the city's new, if unofficial "national anthem."
For over three months, pro-democracy protesters in the semi-autonomous Chinese city have been demonstrating over a
range of issues
, including demands for universal suffrage. At times, the protests --- which were sparked by a
now-suspended extradition bill
-- have turned
violent
. But over the past week, demonstrators have adopted a new, unifying approach: singing the newly-created protest anthem, "Glory to Hong Kong."
On Wednesday and Thursday nights, large crowds in malls across the city broke into the anthem, which includes lyrics such as "For Hong Kong, may freedom reign." Earlier in the week, football fans at a World Cup qualifier match between Hong Kong and Iran booed the
Chinese
national anthem, entitled "March of the Volunteers," before singing the new protest tune.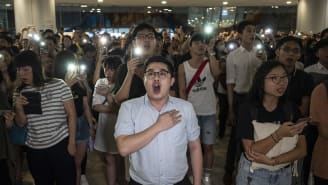 "I wanted to have a melody that can unite all protesters, even those that are not normally part of the campaign," said the song's Hong Kong composer, who would only give his English name as Thomas as he was afraid of being
targeted by authorities
.
"I can buy (protesters) helmets as well, I can save them from physical violence, but maybe I can give them something more -- something that's spiritual. I think that the best thing to do is to come up with a new song to unite them."
Since the song was released on
YouTube
at the end of August, it has attracted over 1.6 million views. A video clip of the orchestral version of the song has over
1 million views
, and features a choir and orchestra decked out in the unofficial protest uniform of hard hats and face masks, playing instruments as white fog -- intended to symbolize tear gas -- swirls around them.
On LIHKG, an online Reddit-like platform popular with Hong Kong's protesters, some have even called the song Hong Kong's "
national anthem
."
Hong Kong is not a nation -- it is part of China, but operates under separate laws.