Professor John Edmunds said it was a "political decision" to ease measures; Sir Jeremy Farrar said the NHS test and trace system should be "fully working".
More than two people will be able to meet outside from Monday and in England schools will reopen to some pupils.
Police have urged people not to break social distancing rules this weekend.
The Scientific Advisory Group for Emergencies (Sage), which advises the government, has published details of its confidential meetings.
It includes minutes of 34 Sage sessions, going back to 22 January, and a series of scientific reports.
They show one Sage meeting on 23 April estimated there would be only 1,000 cases per day by mid-May.
Prof Edmunds, from the London School of Tropical Hygiene and Medicine and a member of Sage, said the levels of coronavirus were still "very high" and many scientists would rather the number of cases declined before measures were relaxed.
Sir Jeremy Farrar, director of the Wellcome Trust and a member of Sage, said
on Twitter
that Covid-19 is "spreading too fast to lift lockdown in England" and NHS test and trace "has to be fully working and infection rates have to be lower".
Speaking on BBC Radio 4's Today programme, Prof Peter Horby, who sits on Sage and chairs its NERVTAG subcommittee, said the R number was still close to one and it was important we "don't lose control".
He said: "Relaxing these measures does require the test, trace and isolate system to be in place and fully operational and to be operating to a level where you are capturing most cases and tracing the contacts within 48 hours."
He accepted that social distancing could not be semi-permanent but urged people not to forget hand washing and other measures when groups of up to six are allowed to meet outside from Monday.
"What I would say is that returning to a situation where we lost control again is far worse than another week or two of social measures," he said.
Prof Sally Bloomfield, of the London School of Hygiene and Tropical Medicine, said that people should not hear the advice and decide to have a barbecue as social distancing only helped prevent transmission in the air and the virus could be present on bottles, cutlery and other objects.
She told BBC Breakfast: "My fear is that the word gathering will be taken as 'we can have a party in the garden now'. Scotland has been more specific and said no sharing utensils.
"We have really got to think, we can't have a socially distanced barbecue but we could have a picnic where we each bring our own food and don't share it with other people."
The Sage documents warned there would be "little time" to reimpose stricter lockdown measures if the infection rate started to creep up again.
Epidemiologist Prof Sian Griffiths told BBC Breakfast that if scientists were in charge of decisions, lockdown would probably not be eased currently, but she said there were other factors to consider.
"I would say there is a huge amount of stress and strain which goes along with not being able to see your friends and your family and that to be able to see them, albeit at a distance, may actually help people's mental health and may help them live with lockdown better and may help them comply better," she said.
Greater Manchester mayor Andy Burnham said it was a "dangerous moment" and said the easing of the lockdown was "premature" as he called on the government to reveal the regional R number so that the public can judge the level of risk.
He told the Today programme: "The time has come to empower the public with much more information about the level of risk in their own part of the country.
"And I think it's now imperative that the government publishes this regional R number on a regular basis so the public can judge what they should do in response to the level of risk they're facing."
It comes as police forces in England have warned people to take care in busy areas and beauty spots and as a fine weekend of weather is forecast.
From Monday, all four UK nations are due to have guidelines in place allowing more than two people to meet outside.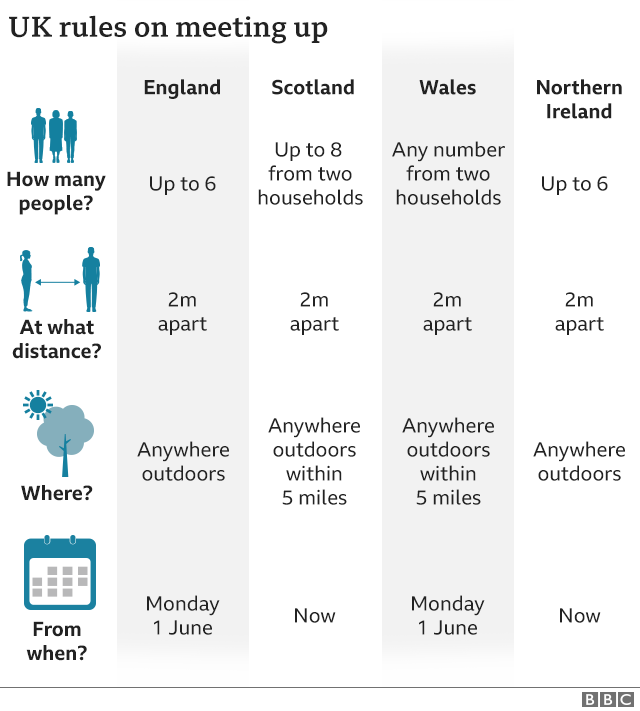 Each of the UK's nations has a different approach - and timescale - to lifting the lockdown. England is the only nation to reopen primary schools to selected year groups on Monday.
In Scotland, two separate households - up to a maximum of eight people - can meet outdoors and in Northern Ireland, groups of up to six people who do not live together can meet outdoors.
In Wales, any number of people from two different households will be able to meet each other outside from Monday, but beauty spots will remain closed.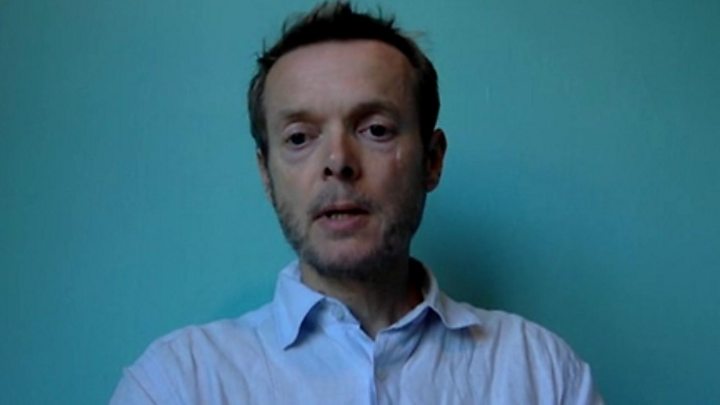 The warnings come as former Prime Minister Theresa May wrote to her constituents saying Boris Johnson's chief adviser Dominic Cummings did not "follow the spirit" of the lockdown guidance.
In March Mr Cummings drove more than 260 miles from London to County Durham with his wife, who had coronavirus symptoms, at a time when the public was being told to "stay home".
He also made a 50-mile round-trip to Barnard Castle 15 days later - a journey which police said might have broken lockdown rules.
Mrs May said in a letter to her constituents in Maidenhead, Berkshire, that she can "well understand the anger" of people who had obeyed the guidance.